Interview with Nicola Biasi, Associazione Enologi e Enotecnici Italiani
On the occasion of the fourth Italian Gastronomy Week, the Italian Trade Agency (ITA) has organized a special wine seminar to promote Italy as the most diverse wine producer in the world. The masterclass took place on 21 November at the Ritz-Carlton Hotel in Budapest, led by Nicola Biasi, the representative of the Associazione Enologi e Enotecnici Italiani.
The masterclass started with a great promo video about Italian wines. The slogan "Taste the Passion" links Italian wines to a number of other gastronomic products, the culture and the Italian passion for life, as the same passion inspires winemaking. Many programmes, workshops and tastings have been held during the Gastronomy Week at over 300 locations around the world.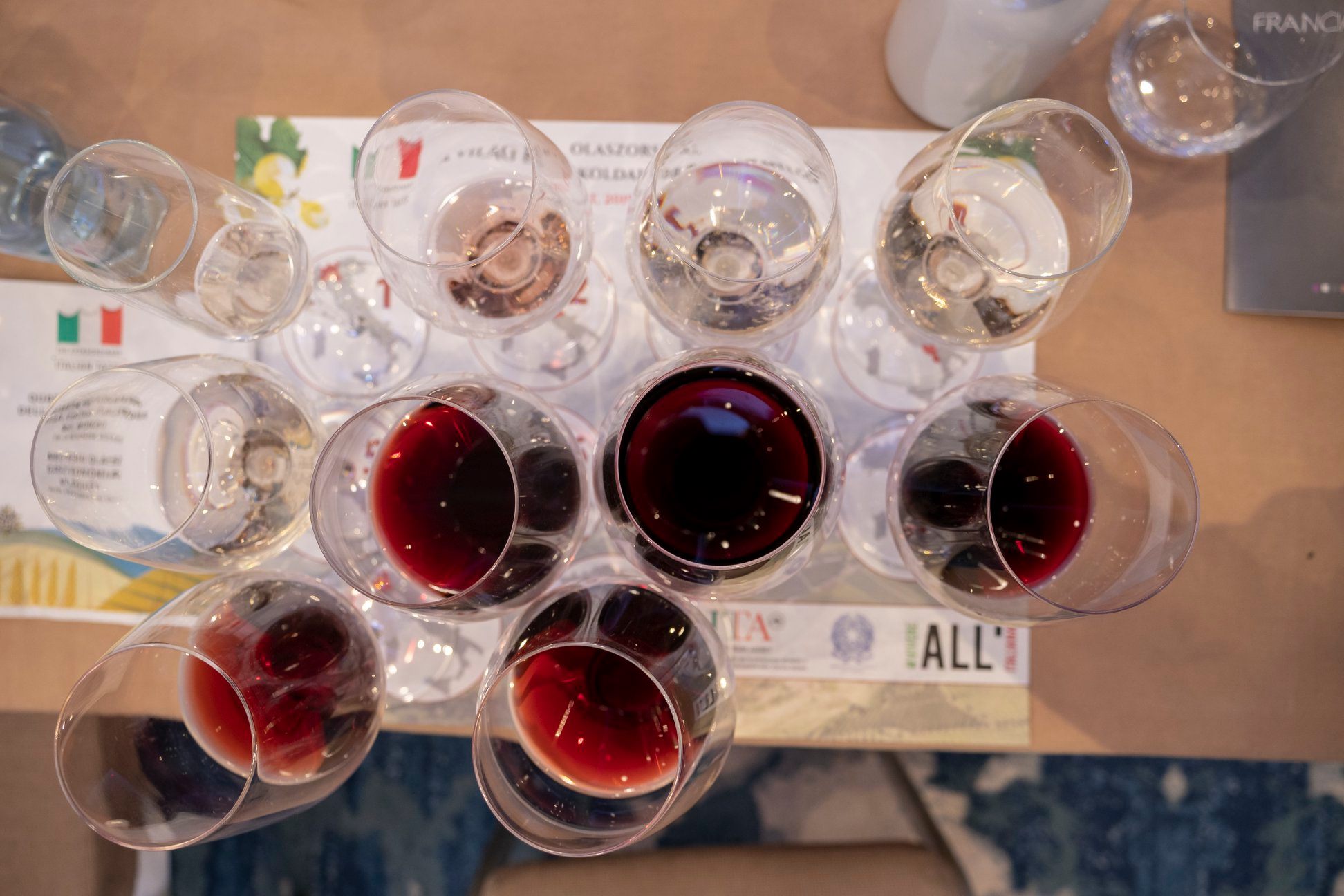 The diversity of Italian wines is impressive: 341 DOC (Denominazione di Origine Controllata), 74 DOCG (Denominazione di Origine Controllata e Guarantita), over 300 different grape varieties... In this diversity lies their beauty. We tasted ten selected wines, let me present one white and one red. 
Verdecchio di Matelica Terramonte 2018, Provima, Marche
The Marche wine region is not so well known because it is too close to Tuscany, but the white wines from there are very nice. Verdecchio grape is interesting because it can be used for winemaking under two DOCs (Castelli di Jesi and Matelica Terramonte). The wine we tasted was made by cryomaceration: the grapes were pressed frozen, resulting in a more concentrated must, fermented at controlled temperature, with the addition of assorted yeasts in stainless steel tank. Matured for 4 months in tank and for additional 3 months in bottle. The intense scent of green apple and almond, it's freshness, fruitiness and slightly minerality reminded me of a reductive Olaszrizling.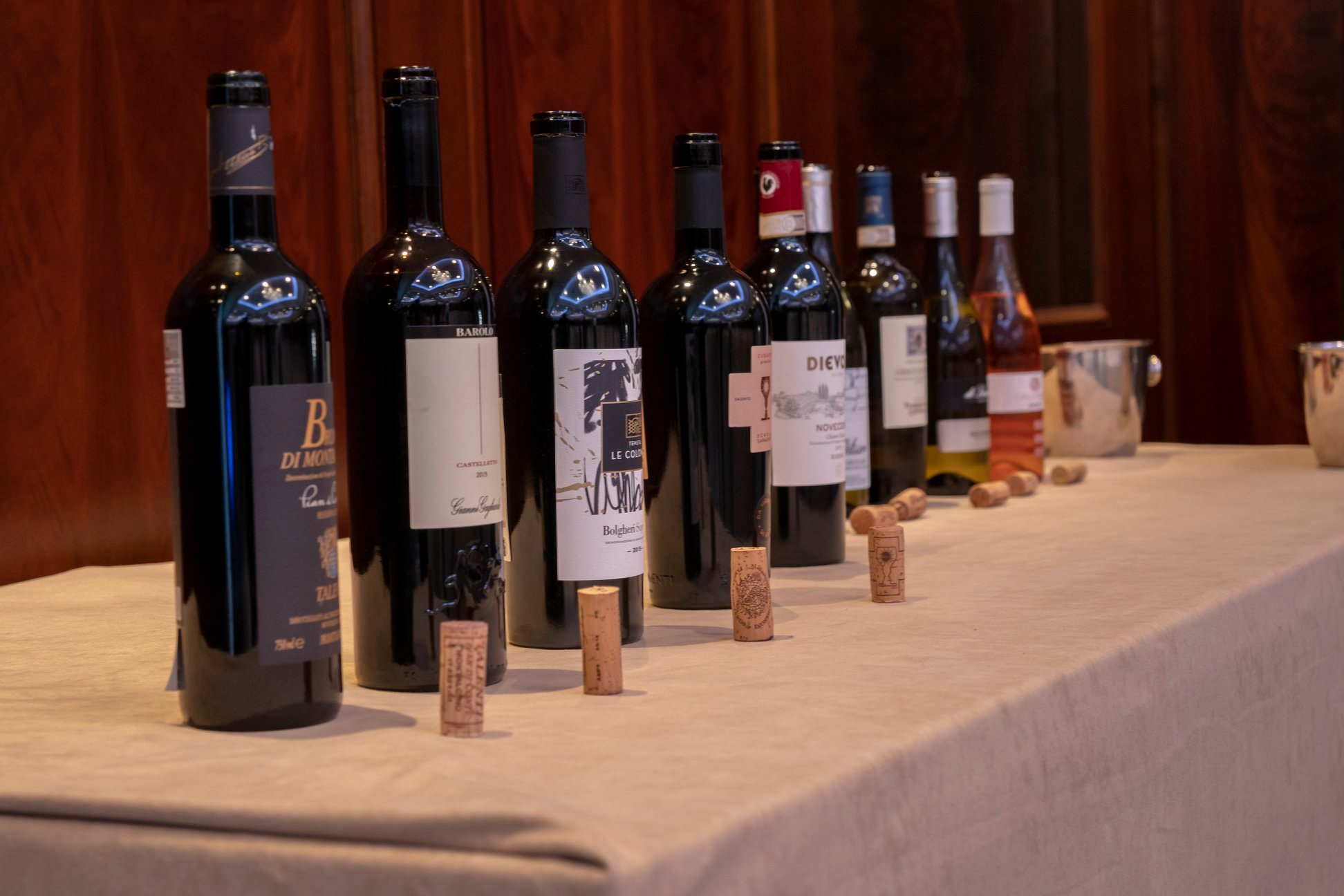 Primitivo Cubardi 2016, Schola Sarmenti, Puglia
Among the reds, the Puglia Primitivo stole my heart. Grapes from a 65-year-old, strictly yield controlled (1 kg/vine) plantation, the wine matured for 6 months in French oak barrels plus 8 months in bottle. Plum jam, tobacco and coffee on the nose, ripen forest fruits, spices and nicely integrated tannins on the palate. It has an alcohol content of 15% but it doesn't stand out, the wine is harmonious and complex with a long aftertaste.
Following the masterclass, I had an interesting discussion with Nicola Biasi.
Thank you for the exciting presentation, it was very insightful. First of all, I would like to know more about the Association you represent.
Nicolas Biasi: Associazione Enologi e Enotecnici Italiani (AEEI) is one of the oldest association of winemakers all around the world and it counts more than 4000 members. On its yearly Congress, it helps to keep the knowledge of Italian winemakers up-to-date, not only about winemaking processes, but also about the market for example. This is very important, the winemakers have to know what's going on on the market, because sometimes they stay the whole year, the whole day in the cellar and they don't follow it. You can easily fall in love with your own wine, you can think this is the best wine in the world, and probably it's not. We have to make very good wines, but we have to know what the market is going to drink.
If my understanding is correct, the Association has a common marketing strategy?
N.B.: Yes, exactly. In the Congress there are experts and important importers from the USA, from Sweden for example and explain us how the things are going on their market so we could understand their needs and work on the right way, if we want to target their market.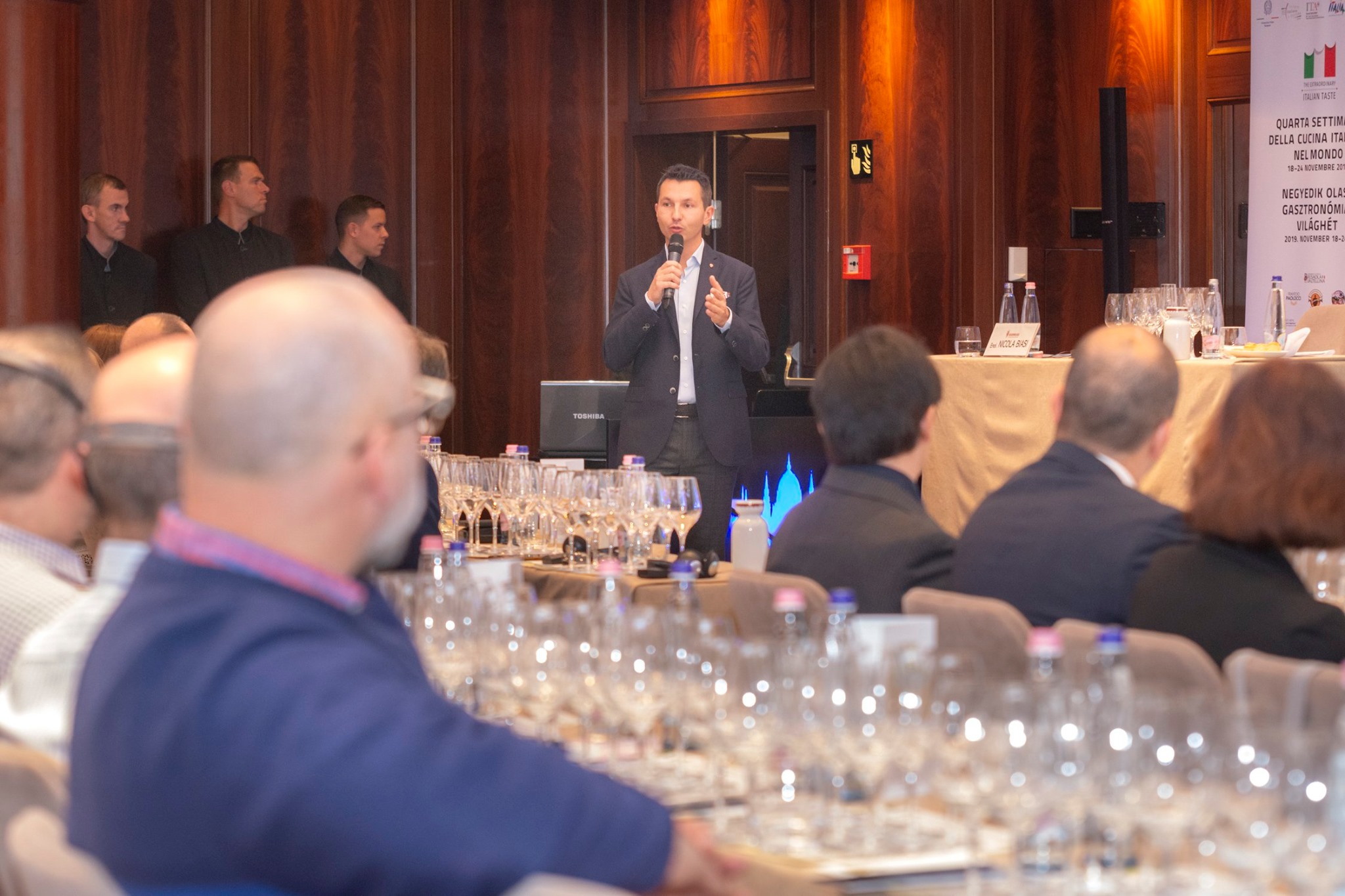 The second thing you mentioned at the beginning of the presentation is the Wine Research Team, can you please tell me more about it?
N.B.: There are currently 40 wineries in the Research Team, one in Bordeaux, another one in Japan, the rest in Italy, covering all Italian wine regions. The idea comes from Riccardo Cotarella, a very famous winemaker, president of the AEEI and the Union Internationale des Œnologues. The goal is to increase our knowledge of winemaking together to find new ways to produce more special and more sustainable wines. We make wine without sulphur. Researches around rootstocks stopped in the '90s, so we began new experiments. At the University of Milan, we are investigating 4 new rootstocks that are more resistant to climate changes, for example, need less water and find themselves better on limestone soil.
It was said at the masterclass that the beauty of Italian wines lies in their diversity. How can consumers find their way through more than 300 varieties?
N.B.: It's not easy. It would be easier to build a brand and sell 100 million bottles a year worldwide, but that's not our goal. The key of our communication is the terroir, not the variety. We need so many grape varieties because of the variety of terroirs. I have to sell Barolo, not nebbiolo grape or Brunello de Montalcino, not sangiovese, and I think that is the secret to success. This is not easy, especially for very small DOCs. 
The situation is somewhat similar in Hungary, with about 100 varieties in 22 wine regions. Do you think that the emphasis on terroir instead of grape could work in our case too?
N.B .: I think so. I think it is always better for European countries to focus on the terroir rather than the variety. In Argentina, winemakers can produce wonderful cabernet francs, and the cost is ten times lower than here, so we can't win the price competition, it's impossible. But if we are selling the terroir, no one can sell the same terroir.
Italian red wines are better known than the whites. I enjoyed tasting the white wines during the masterclass. What is the reason why white wines are less popular?
N.B.: Although Italy is one of the most knowledgeable winemaking nations, this has not always been the case. We increased the quality of wines over the last 20 years. It is easier to make red wine than white. Even if the winemaking technique is not very sophisticated, beautiful red wines can be born, but not good whites. Perhaps in the past, our white wines were not good enough, special enough, and this may be the reason why red wines are better known.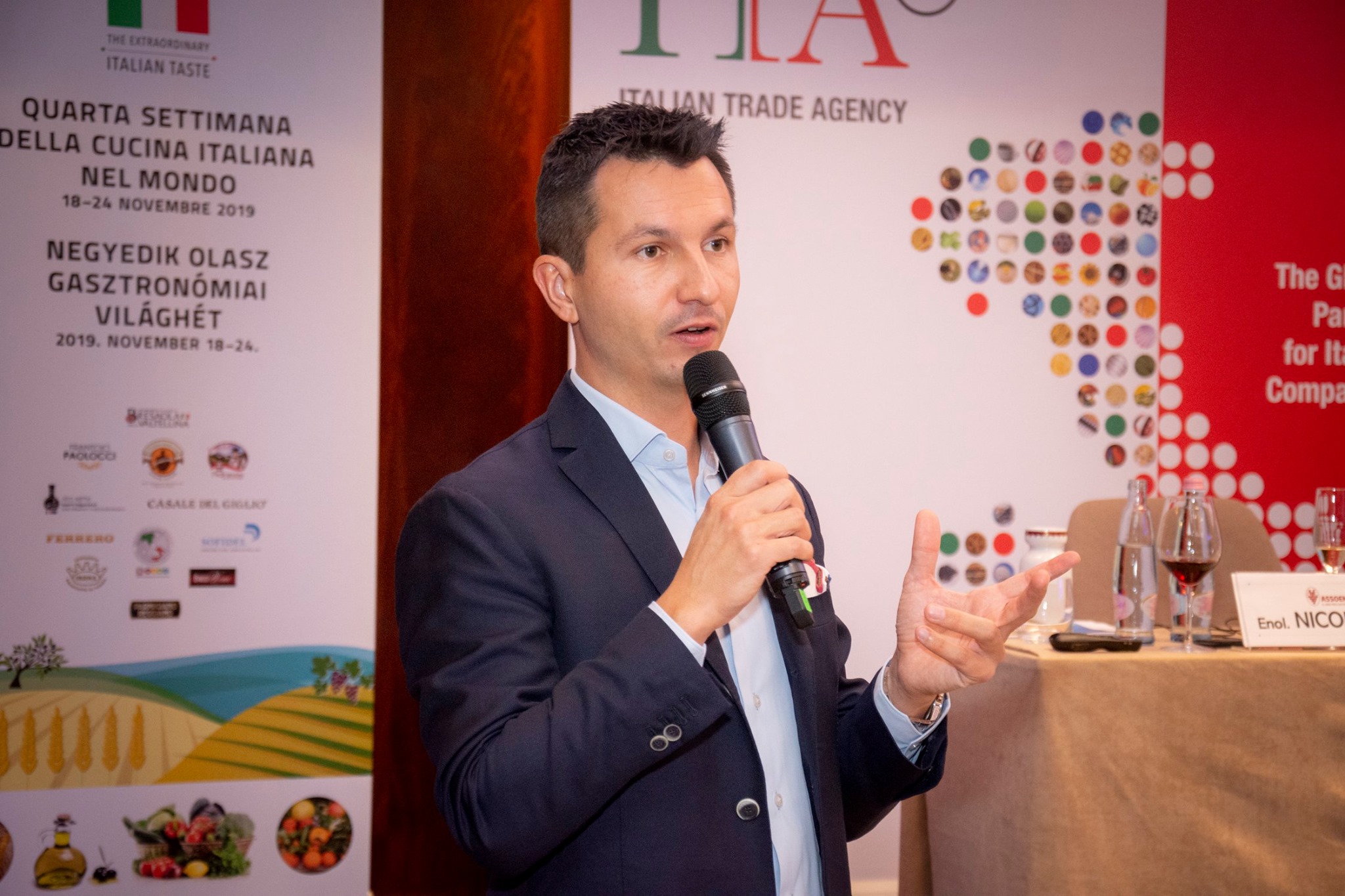 You mentioned you are making your own wine. Can you tell me a little bit more about this?
N.B .: This is a very small but wonderful project. I have a vineyard in Val di Non, Trentino in the Alps, at 1000 meters above sea level. My father is from that area and our family house has a 1 hectare garden. That region is very famous for the apples, but I don't like apples. 15 years ago, I started to convince my dad, who is also a winemaker, to remove some apple trees and plant vines. In the beginning, he objected, saying that no one in the region was growing grapes. Years later, I finally managed to convince him that "good ones are the first ones, the pioneers." We planted a German clone called Johanniter, a cross between Riesling and Pinot Gris. It is resistant to diseases, does not require spraying, so we are organic. Our first harvest was very funny, we planned it for the middle of October, because at such an altitude the grapes are ripening slowly. It was October 12, 2013. When I got up in the morning, I looked out the window and everything was covered with snow, we harvested in the snowfall, then made the wine, which was "good enough", so we continued the planting and today I make 500 bottles a year. The name of the wine is 'Vin de la Neu' (Snow wine). 3-4 years later, others began to plant vines in the area. At that time the Johanniter variety was not allowed, I made it to be authorized in Italy. I prefer white wines that ages well and this wine ages well. We don't have a lot of wines in Italy that ages well.
What are your plans for the future?
N.B .: I have a winemaker friend in the Mosel wine region in Germany, with whom we are planning to plant Johanniter there next spring. Mosel is very famous for its Riesling, and only few other grape varieties are planted there. Another project is to establish a cooperation of wineries who are dealing with resistant varieties to increase quality. In the past, wines made of resistant varieties weren't good and people do not even know exactly what the resistant varieties are, they think those are genetically modified, though they are crosses. Good quality and communication will be key in this project. In Veneto, for example, there is already a large winery working exclusively with resistant varieties. I see that winemakers have begun to believe in them, especially in the rainy, north-eastern parts of Italy, where a lot of spraying would be needed. Such varieties would be really suitable for those areas.